Women have dressed for power throughout the ages and decades, all in reflection of the times, to make a statement, find their voice, and exert their rights in the world. In modern times, power dressing began with Coco Chanel's power Tweed suit in the 1920s and YSL's "Le Smoking" Cigarette pants in 1967. It shook up gender stereotypes and is now the modern boss babe's uniform in the workplace.
With the adoption of a hybrid lifestyle and economic shifts, power dressing is still highly relevant today and has evolved to more tailored silhouettes and structured looks. You can put on a relaxed suit for lazy weekdays and put on a sharp suit to accentuate the sleek shoulders and slay the newest contract signing.
In this article, we'll discuss some fashion tips on how to dress sharply and smartly like a boss lady. Here's what you need to know:
Some Boss Lady Fashion Tips
If you don't know where to start, these tips are for you. They'll help you figure out your style and which fabrics and colors work for you and your complexion.
Explore Fabric And Materials
Playing with prints and materials can help you create an interest in shopping and planning outfits and balance the masculine and feminine energy while wearing suits. Tweed, leather, silk and sheer materials are some of the most basic fabrics you can layer, mix, and match to elevate your overall corporate attire vibe.
You can also borrow a few looks from the boys, like the preppy look from the former Prince of Wales that comes with good tailoring. Or you can try pinstripe or houndstooth styles and finish your outfit with edgy boots, heels, or pointed pumps.
Keep It Neat And Sleek
Don't over-embellish your outfits with jewelry and accessories. Try to keep the overall look sleek, minimal, and clean. It'll help put the focus on the tailoring for your outfit. Statement cocktail dress accessories like long necklaces, drop earrings, and loud bracelets will pull focus on only one part of your look and become quite distracting.
Instead, experiment with colors. However, wearing too many colors can lower the seriousness of your look. Keep the outfit tonal or color block to streamline your power look.
Wear Clothes That Reflect You
To dress well, many boss ladies often forget to include personality in their clothing. Since you don't want to be out on the professional streets as a fraud, wear clothing that screams "you." Therefore, you don't have to wear boring beige or black anymore unless it's a uniform requirement at your workplace.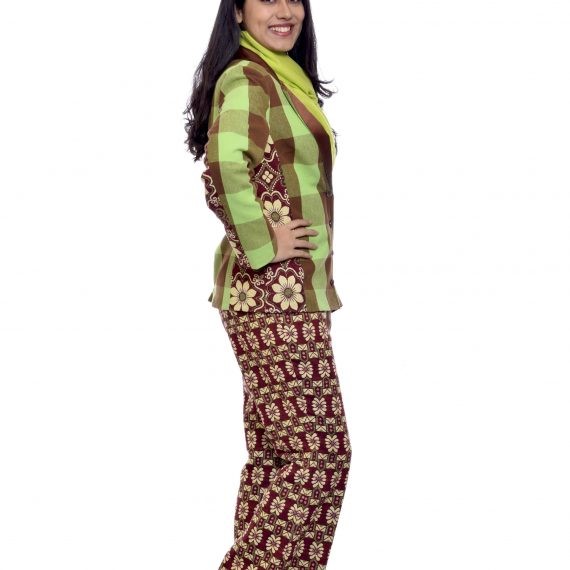 It's All About The Fit And Quality
Don't go the cheap route when you're dressing to look the part and purchasing pieces for your professional wardrobe. You shouldn't have to buy new suiting, trouser, or blouses every few months because of wear and tear. Invest in pieces that you can mix and match throughout the seasons. It'll help you build your professional wardrobe and make it last longer. And it'll also help you figure out the signature pieces that help you slay the boss-lady look.
Boss-Lady Outfit Ideas
Here are some outfits ideas to help inspire your corporate look:
Abstract Contrast Printed Blazer
If you're looking for something bold and stylish, this abstract contrast printed blazer is for you. It's a lapel collar blazer with a three-button front closure in a subtle contrasting design that'll make a great addition to your corporate wardrobe. You can also pair it with stylish accessories and wear it on a night out with your friends.
Geometric Paneled Top With A Layered Skirt
If you're looking for something fashionable and appropriate for the workplace, this piece is for you. The shirt has an asymmetrically curved panel with a bateau neckline, and the skirt is layered with diamond shape fabric manipulation. It'll accentuate your figure while helping you be more stylish in the office.
Check Out One Of The Best Online Fashion Stores For Western Womenswear
Are you looking for quality activewear, long party dresses for women, cocktail dresses, and blazers for women? Look no further than Evanna Fashions House. They have a gorgeous collection of casual, formal, ethnic, and corporate attire that can accentuate your figure and bring out the beauty or boss lady in you.
Visit their fashion house clothing today to check out their statement womenswear and menswear pieces.
About The Author
Margo, K. has been working as a fashion designer for fifteen years at a reputable designer brand in New York. She also writes for acclaimed websites and magazines to educate readers about the latest fashion trends and tips.